Koch Hazard Architects Working on Sioux Steel Development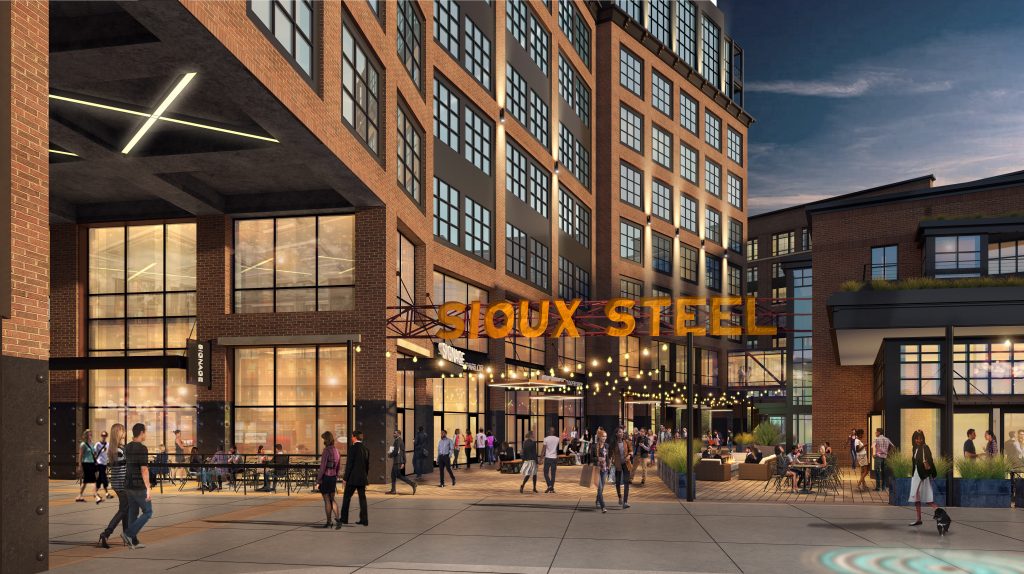 Koch Hazard Architects is honored to be a part of the iconic Lloyd Companies development at the Sioux Steel site. The seven-acre, two-phase development includes a seven-story Canopy by Hilton hotel, convention center, a nine-story mixed-use building, skywalk, and eight-level parking ramp surrounded by a mixed use residential, retail and office structure.
Koch Hazard Architects is working on two projects, the nine-story mixed-use building and the parking ramp. The firm teamed with ESG out of Minneapolis, who is the lead architect for the hotel and convention center project.  VandeWalle Architects is designing the mixed-use wrap around the parking structure.
The design is driven by the history and context of the Sioux Steel site; each building has its own character but complements and reinforces the surrounding structures.  The campus is laid out to encourage pedestrian flow from Phillips Avenue and the Levitt Pavilion through the site to the Big Sioux River Greenway.  The alley between the phase 1 buildings is a vibrant community and commercial space, lined by boutique shops and restaurants  with ample space for a variety of public events.  The mixed-use building itself takes cues from turn-of-the-century warehouses with large square multipane windows, a prominent cornice and painted steel deck structures.  The dramatic boardwalk running through the east end of the building is a response to a city sewer easement on the site and separates a riverside restaurant from the main building.  Careful proportioning and predominant materials of brick and black metal are characteristic of the Old Courthouse and Warehouse District, with touches of contemporary design and detailing at the retail storefronts and main lobby. Design work on the projects began in May 2019.
The nine-story mixed-use building was designed by the late Jeff Hazard and Keith Thompson, current Principal at Koch Hazard Architects. The project is considered to be one of the very first "vault" projects announced that Jeff was actively working on at the time of his passing. Koch Hazard Architects has an entire vault full of unreleased designs and looks forward to releasing them over the next 20 years.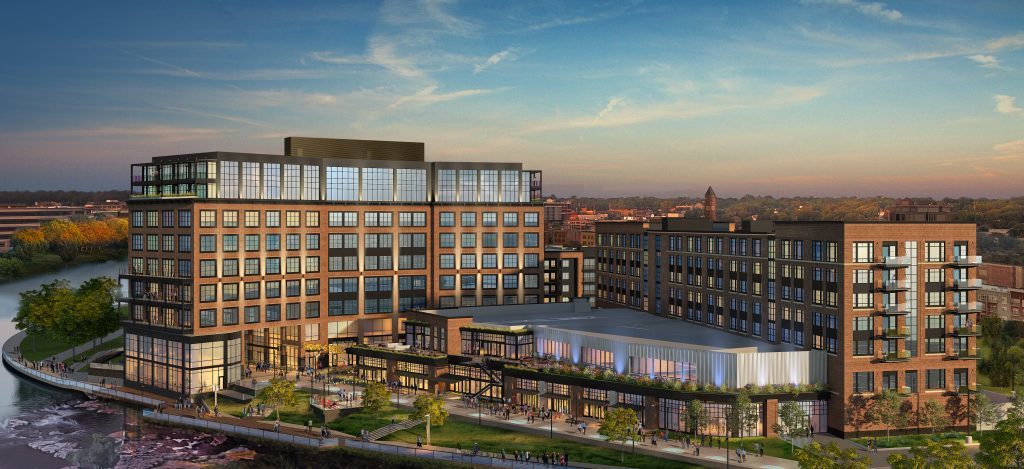 Other announcements regarding the Lloyd Companies development on the Sioux Steel site: