World's Greatest Challenges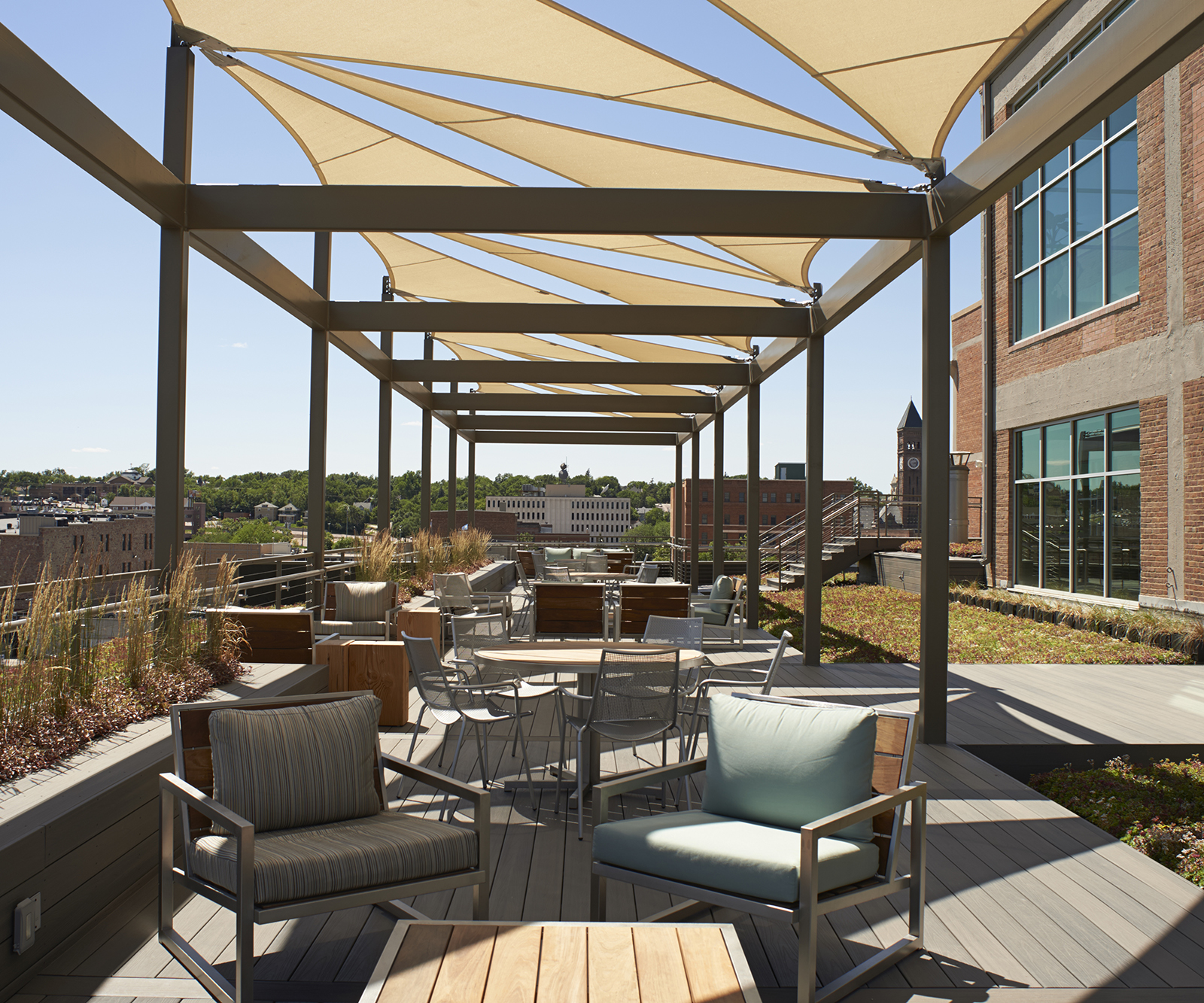 As the sun rises over the downtown Sioux Falls skyline and across the Big Sioux River, light passes through the glass overlook that protrudes from the first floor of Raven headquarters. From inside the overlook, you're graced with a stunning view of the changing downtown riverfront. Turning inward, the illuminated Raven showroom tucks its storied history neatly between exposed timber beams, in front of a beautiful stone backdrop that accents the entire building. Directly across from the glass case is another that welcomes guests and employees from around the world into the new Raven.
While the rich palette of materials nod at the building's past, integration of modern fixtures, including video displays, floor-to-ceiling glass walls, and a corten steel gateway allude to the company's vision for the future. A vision that includes attracting bright young talent from around the world to help Raven solve the world's greatest challenges. This mission is lead by CEO Dan Rykhus, who knew that in order to recruit and retain world-class talent, Raven needed to repurpose and reimagine its home.
It's almost hard to imagine the downtown Raven Office before the first walk-throughs. Up until that point, Raven housed both corporate and production operations from the same building. Functions that are so wildly different were forced to accommodate one another, with production processes running from floor-to-floor, up and down elevators – hardly a beacon of efficiency. Yet, despite their constraints, Raven still thrived. But it was reaching a tipping point.
As the project got underway, perhaps the greatest irony of renovating a building to enhance employee comfort and productivity is that the construction itself would adversely affect employee comfort and productivity as construction crews worked to accommodate hundreds of people. But that's where strong relationships with Koch Hazard, Raven and construction management company Henry Carlson paid off.
Employees were kept abreast of the renovation progress as they moved up and down floors to make way for each phase of the construction process. Henry Carlson often had their crew conducting the loudest of tasks as early as 5:30 a.m., over lunch hours, or during the occasional night shift. In fact, Senior Project Manager Jerry Fromm said that in order to reduce noise for the staff and for the neighbors across the street, they had to disarm the back-up alarms on their forklifts. But such anecdotes have only been fun reminders of how far the project has come in delivering a transformative workspace.
Today, the majority of employees work in wide open spaces that are surrounded by natural light and panoramic views of Sioux Falls. Break and meeting rooms, winter gardens, and recreational spaces are scattered throughout the five floors with the fourth-floor rooftop patio serving, pièce de résistance. Floor plans were designed to encourage the entire staff to get up and move around throughout the day – to find inspiration everywhere and come together as a team. And as you move throughout the building, you'll see reminders of the company and building history.
The main lobby greets you with a showcase of past innovations and future company initiatives. As you enter the main office space, you'll pass by a beautifully woven wooden wall that nods to Raven's early history with hot air balloons. On the Applied Technologies floor, Raven pays homage to their agricultural history with colorful, dissected water tanks suspended from the ceiling. And on the fourth and fifth floors, two-story brick ovens from the bakery that preceded Raven have been restored and converted into multipurpose meeting rooms, offices and even a library.
As important as comfort and flexibility are to attracting and retaining talent, these features are only amplified by Raven's commitment to sustainability.
"We kind of see ourselves as a corridor here," Rykhus said. "Cherapa (Place), across the river, is LEED certified. Now we will be. We hope that collectively we can have a positive influence on other building projects around this neighborhood and through the city."
Raven headquarters is designed to achieve LEED Gold status, which is highlighted by a green roof that collects and uses rain water. Not only will this effort reduce Raven's energy consumption, but it stands as a promise to their employees, partners, and customers that they will continue to seek opportunities to improve their sustainability on all fronts.
Working with a company who wants to solve the world's greatest challenges has been a wonderful challenge for Koch Hazard. And if their employees find even a fraction of the inspiration that KH unearthed behind their walls, the world will be brighter for what's discovered along the banks of the Big Sioux River.