Lincoln Hall Celebrates Ribbon Cutting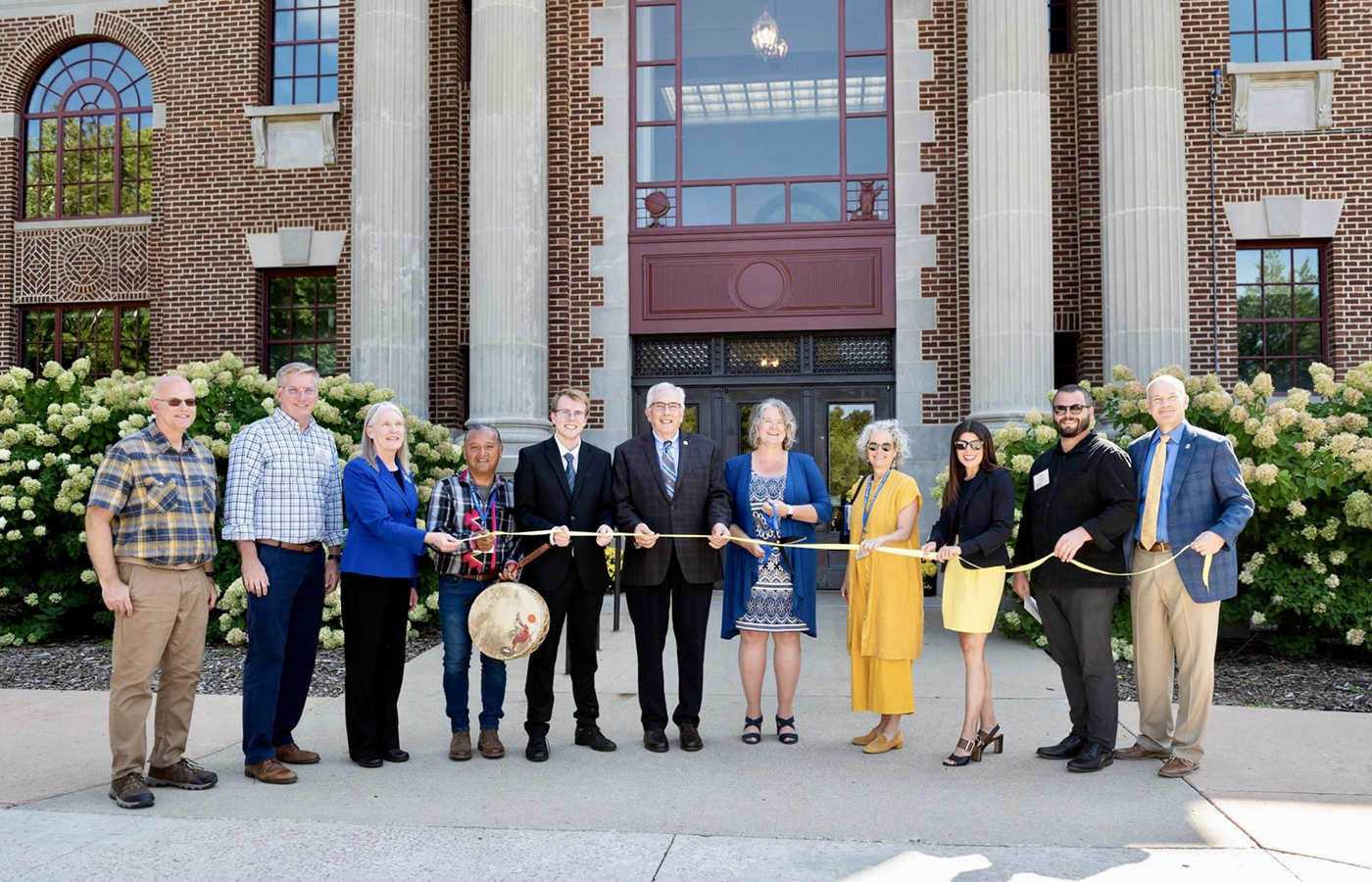 A special ceremony was held on September 12 celebrating the historic renovation of Lincoln Hall. Koch Hazard Architects served as the Architect-of-Record for the project (phase one and phase two) and collaborated with South Dakota State University (client), West Plains Engineering, Inc. (mechanical and electrical engineer), SEA, Inc. (structural engineer) and Gil Haugan Construction (contractor) for phase two. The project was completed in two phases.
Completed in 2020, phase one of the project renovated the exterior of the building including window replacement, tuck pointing and stone repair, stoop rebuild, and light fixture refurbish. The historic entry and lobby were restored including original light fixtures and plaster repair. Missing bronze hardware was cast-replicated and installed, restrooms added on the second floor, and first floor restrooms renovated.
Completed in 2023, phase two included design work for the balance of the building featuring a conversion of the barrel-vaulted reading room into a state-of-the-art Humanities-centered collaboration, research and presentation arena. Two modern glassy pavilions are inserted into the 3,600 s.f. room providing study, workshop and presentation space, as well as access to their topsides as quiet study areas. Eight large skylights above stained glass ceiling openings were reinstated to bring back the historic feel and sense of natural light in the circulation desk area and in the reading room.
Finished project photos coming soon!
"Originally built in 1927, Lincoln Hall is the home to the College of Arts, Humanities and Social Sciences and the School of American and Global Studies and includes offices, classrooms, seminar rooms and collaboration spaces.
Uniquely historic, the neoclassical brick and Bedford limestone building was the university's library until 1979. It was dedicated in recognition of President Abraham Lincoln's role in the passing of the Morrill Act, the legislation that became the foundation for land-grant universities. President Calvin Coolidge and first lady Grace Coolidge were part of the Lincoln Hall dedication that attracted a crowd of nearly 15,000 people. The president and first lady also helped place the plaque on the front of what is known as Coolidge Sylvan Theater, the outdoor space next to Lincoln Hall.
Lincoln Hall became home to the SDSU music department in 1979 when the Hilton M. Briggs Library opened. In 2018, the music department merged with the theatre department to form the School of Performing Arts, which is housed in the Oscar Larson Performing Arts Center."
The project received a 2023 (Brookings) Mayor's Award in the historic preservation category.